Navigating Surveillant Lands – An evening of poetry, discussion and dance
Friday, Feb 7, 2020, 6:30 PM – 9:00 PM
Organiser
AAAI/ACM Artificial Intelligence Ethics and Society (AIES) Conference

Location
NYU Silver Center for Arts and Science
Hemmerdinger Hall
32 Waverley Pl, New York, NY 10003, United States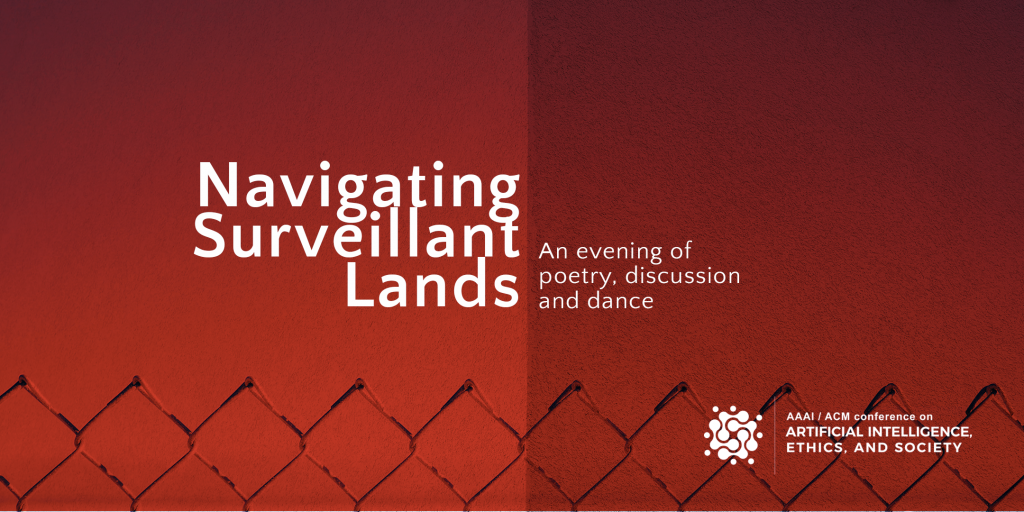 Please join us for an evening of provocation and inquiry, unfolding in three acts:

ACT 1
Performance by Open Doors Reality Poets, Vincent Pierce and Peter Yearwood.
Open Doors is an arts and justice initiative, on Roosevelt Island, based in the long-term care facility where many members live and work. Collaborating with established artists, members use storytelling, hip-hop and spoken word to challenge audiences to combat the injustice that breeds violence in our cities.

ACT 2
Professors Carla Shedd and Hafsa Kanjwal will discuss the logic of occupation and policing from Chicago to New York City and Kashmir. Khadijah Abdurahman will facilitate their exploration of resistance strategies to surveillance and who we become in navigating through surveillant lands.

ACT 3
site un(seen )is an interactive projection map dance featuring Stanley Munoz alongside performances by poets from The Fortune Society's writing workshop led by Jamie Maleszka, Doc Limage, Mersadez George, and Donel 'Lotus' Davis. The projection mapping was developed by Ilan Mandel and Amritansh Kwatra.

The Fortune Society's mission is to support successful reentry from incarceration and promote alternatives to incarceration, thus strengthening the fabric of our communities.
Short Bios
Carla Shedd, Ph.D. is associate professor of sociology and urban education at The Graduate Center, CUNY whose research and teaching focuses on education, criminalization and criminal justice, race and ethnicity, law, inequality, and urban policy. She is the award-winning author of Unequal City: Race, Schools, and Perceptions of Injustice, which examines the symbiosis between public school systems and the criminal justice system in Chicago. Her current book project, When Protection and Punishment Collide: America's Juvenile Court System and the Carceral Continuum, explores the links between schools, neighborhoods, and juvenile justice courts in New York City.

Hafsa Kanjwal is an assistant professor of South Asian history at Lafayette College. She received her PhD from the University of Michigan, Ann Arbor in History and Women's Studies. Her research focuses on post-Partition state-building in Indian-occupied Kashmir. Kanjwal has most recently spoken on Why is This Happening? with Chris Hayes, contextualizing the lockdown in Kashmir. She has also written and spoken on Kashmir for a variety of news outlets including The Washington Post, Al Jazeera English, and the BBC.

J. Khadijah Abdurahman is an independent researcher with a focus on predictive analytics in the child welfare system. Co-founder of Word2RI, an oral history archive of racial justice and gentrification on Roosevelt Island. She's currently working on We Be Imagining, a series of public programming with Columbia University's INCITE and The American Assembly's Democracy and Trust Program. She's teaching a course on Oral History Theory + Practice Summer 2020 at Cornell Tech's Millstein Program for Technology.
Agenda
6.30 pm Reception
7.00 pm Program starts
Admission
The event is open to the public as well as the AIES Registered Participants. Please register for free to attend.